SMART & CLASSIC IN RENESSE.
THE SMART WAY TO CULINARY DELIGHTS.
Café Classique gets smart.
Renesse is not just popular with tourists as a bathing resort, it also has a reputable dining culture. But a dining culture does not thrive solely on the quality of the dishes it serves – with that extra dash of flair and comfort, food is simply much tastier in a restaurant.
At Café Classique, in addition to fine Belgian and French cuisine, the appeal lies in an interior decor concept which combines classic design with modern technology. The result: A stylish ambience to please the eye which is always perfectly illuminated by means of smart home technology.
Planning and implementation made possible:
For a smart home people can rely on, there are two absolutely essential components: High-quality technology based on a stable system and an installation expert who possesses the necessary technical know-how to set up a system flawlessly and securely.
Consequently, Bas Clerx from the electrical installation company Clerx Elektrotechniek was commissioned to transform the classic restaurant into a shining example of smart comfort.
The young, up-and-coming company is leading the way with regard to smart homes – and is a certified eNet SMART HOME service partner. So Mr Clerx already knew all about the advantages of eNet SMART HOME. The radio-based system came with everything that was required for the case of Café Classique.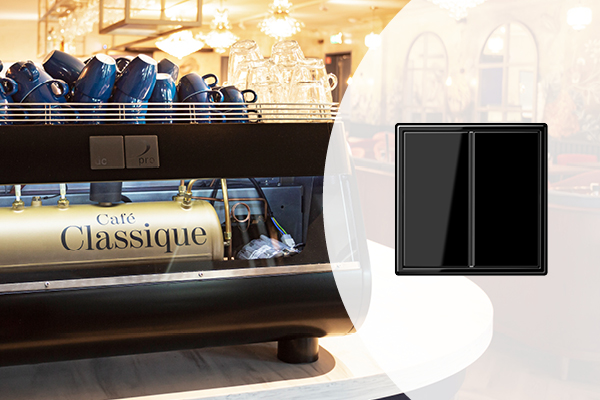 Foundation for professional smart homes.
Every eNet SMART HOME system starts with the server. In the case of Café Classique, the service partner installed an eNet server from JUNG.
In keeping with this, wall transmitters were also installed together with 8 dimming and 14 switching actuators of the same brand. With regard to switch design, the owner's choice is perfectly suited to the classic style of his restaurant: JUNG LS990 in elegant black.
Using the server as a basis, all integrated devices communicate with each other with full encryption via radio. That's why the wireless smart home solution is used wherever the installation of cost-intensive solutions which require wiring are not possible or recommended due to legal provisions or potential damage to the building.
Flexibility during installation and illumination.
In a smart home, not only is it possible to position the switches completely without restriction. The radio-based smart home also offers numerous comfort functions in terms of installation as well as use.
For instance, by means of the installed switches, at the press of a button a scene to suit the time of day, which has been previously defined in the app, can be activated.
Then not only is it possible to set the level of dimming for various lights, but also the opening of the blinds in increments can be defined.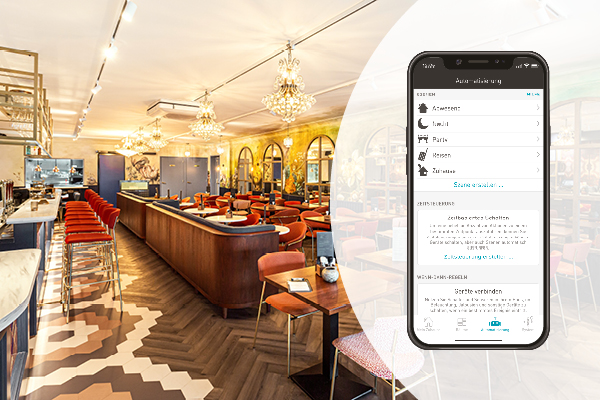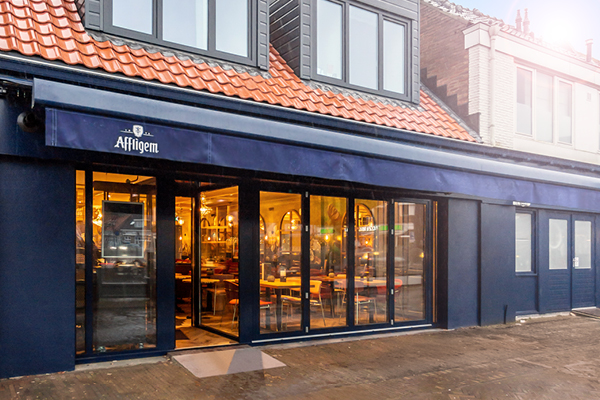 Special commercial solutions.
At eNet SMART HOME, flexibility also means that any type of real estate can be made smart – from a historical villa to a modern office or a fine restaurant.
Innumerable adjustments can be made and products installed, no matter whether you want to extend a building bit by bit, make existing devices smart or build something from scratch.
In the case of this property in Renesse, scenes were created for "Everything off" and "Clean-up", amongst others, in order to simplify procedures before and after the restaurant's opening hours.
And your home?
With eNet SMART HOME, practically any home or enterprise can get smart – and special client wishes are also regularly implemented. In addition to the technical basis, our service partners are primarily responsible for this.
Our network consists of more than 2,000 certified electrical installation companies in Germany, Austria and the Netherlands. If you are interested in a consultation with no obligation, you will find the right contact near you via our service partner search function.