ONE SYSTEM – MANY POSSIBILITIES.
You can control smart homes intelligently using switches, voice control and apps.
With eNet SMART HOME, you keep all the operating options open and define your own scenes into which you can intelligently integrate different solutions, such as heating and light control.
Everyone who likes classic looks and values design and haptics will quickly feel at home in the switch worlds of Gira and JUNG. Our app offers all functions at a glance on smartphones and tablets, whether you're at home or on the go. The touch panels Gira G1 and JUNG Smart Control 5 are especially sleek and intuitive.
People who use Amazon Alexa and Google Assistant will also be delighted about eNet SMART HOME's large number of options and compatibility! The integration of smart speakers allows you to easily activate scenes by voice command.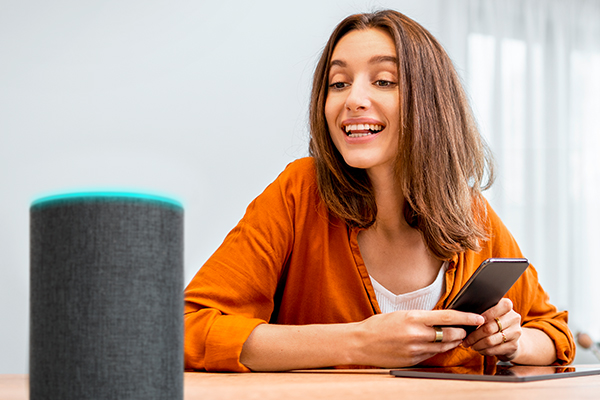 Voice control:
Everything obeys your command!
What could be more convenient than activating scenes at the touch of a button?
That's easy: Making it possible to operate your smart home without using your hands!
You can easily control all the scenes you have defined using Amazon Alexa and Google Assistant as well once your eNet account has been linked – that also applies to individual solutions like lights and blinds.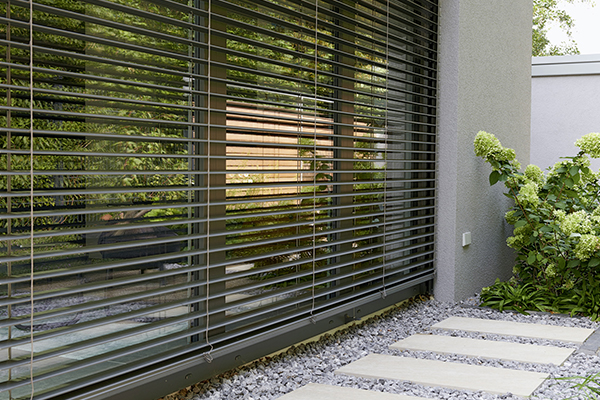 Control solutions by voice command.
Of course, you can automate your blinds using time control or sun sensors. But what if you still want to lie in the dark a little longer?
Then all you need to do is say, "Alexa, lower the blinds all the way!" No need to get up or look for your mobile phone.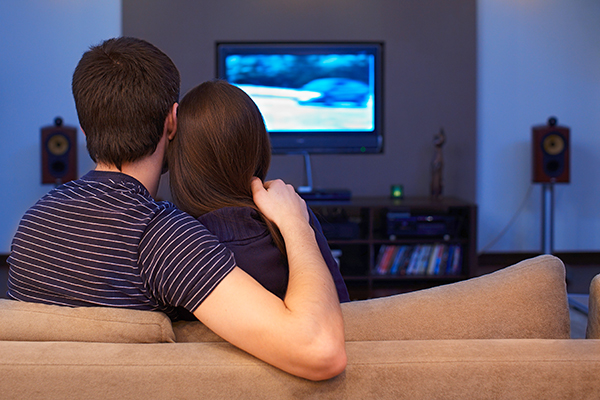 More comfort with the "cinema" scene.
All the scenes that you define for eNet SMART HOME can also be triggered using voice control.
That means if you have set the optimum dimming level for your lights and configured the shutters to close for film evenings, you can create atmosphere immediately by saying "Okay Google, activate the cinema scene!"
Smart home via app:
Your home in your hands.
You can always stay on top of things in your home with the eNet SMART HOME app. The app's intuitive user interface makes it easy for everyone to use.
You can easily configure settings in the app and conveniently control all the integrated solutions using your smartphone, tablet or touch panel.
Even when you are on the go, you can remotely monitor devices, turn off lights or turn down the heat at any time thanks to eNet SMART HOME remote access.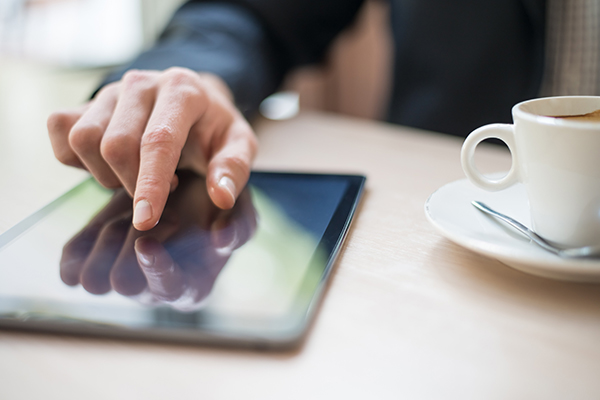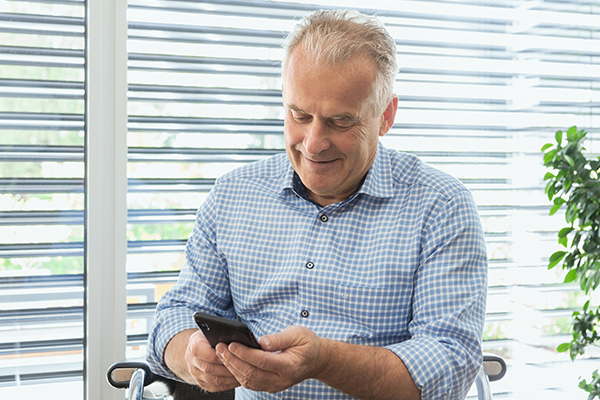 Comfort is only a fingertip away.
If it's not simple, it's not smart! That's why controlling eNet SMART HOME is always intuitive and easy.
Use your smartphone to dim each of the lights in the dining room while you're cooking, or quickly make sure all the heating systems are in economy mode while you're at work. The eNet SMART HOME app makes your everyday life more relaxed.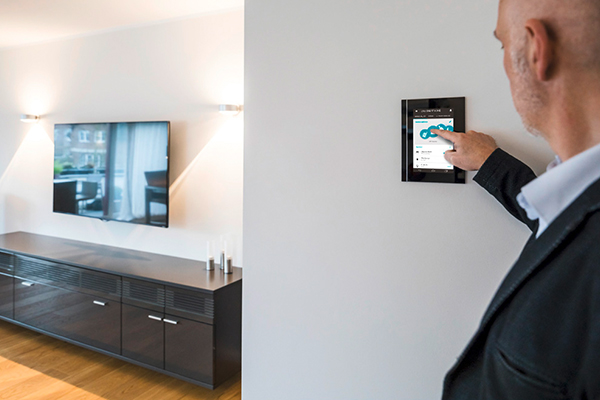 The main touch panel for your smart home.
Both the operating panels JUNG Smart Control 5 and 7 and the Gira G1 don't just allow you to control and monitor your smart home system; you can also add more apps to it.
They look great with their HD displays and sleek proportions and disappear discreetly into the wall thanks to their flat designs. That's technology that integrates perfectly into every interior.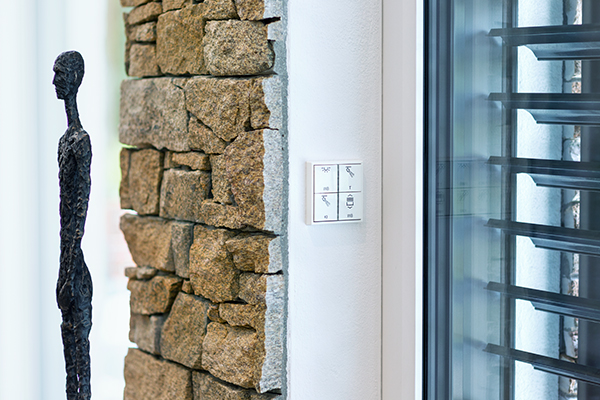 Switch worlds:
More than just on and off.
Gira and JUNG are true specialists for intelligent switches – both their designs and functionalities show that in equal measure. That means you don't simply turn on the light in a room when you touch a button – you can assign any function you want to the buttons.
So if you want a single button to turn all the lights in your home off or on, that's no problem with eNet SMART HOME. You can also control defined scenes in that manner, including blinds, lights, shutters and other solutions. And you have a nearly unlimited number of possible switch designs.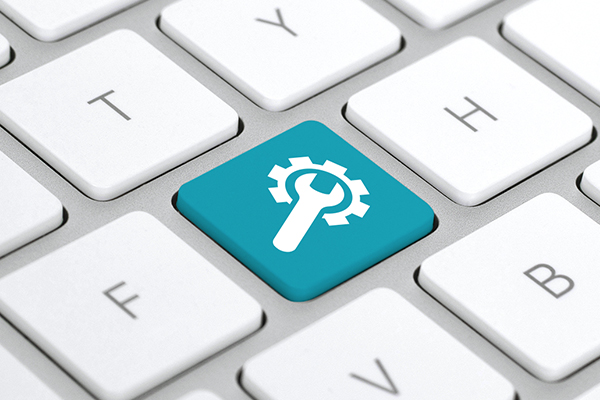 Tools for configuring and customising.
You can compile and adapt the switches from Gira and JUNG as you please. The Gira design configurator and JUNG's graphic tool give you the best overview of this process.
Combine frames and attachments in different colours and materials with Gira and create designs that fit your interior!
With JUNG, you can add your own symbols, texts and motifs to the switches. Depending on the material you choose, you can even opt for laser engravings and colour printing!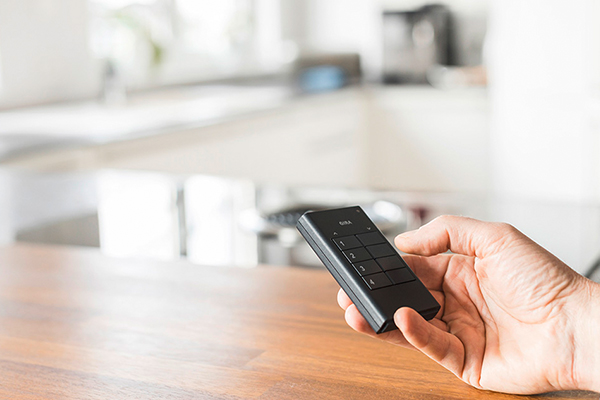 Hand-held transmitter – simply practical.
The compact hand-held transmitters from Gira and JUNG are exceptionally useful remote controls for smart homes for people who spend a lot of time in their own homes or whose mobility is restricted.
In the designs featuring one, two or four buttons, the hand-held transmitters enable purely haptic operation without a touch function – in other words, a mobile switch.
You can assign as many different functions to each of the buttons as you can to the wall switches.
OUR PRODUCTS FOR: SMART OPERATION.
Discover the eNet SMART HOME solutions
eNet SMART HOME
You'd like a personal consultation or have questions? Then simply use our contact form.
Newsletter
Subscribe to our newsletter and be amongst the first to find out about news and updates in connection with eNet SMART HOME.