SMART HOME PLANNED FLEXIBLY.
SIMPLY FOLLOW THE INSPIRATION.
Sophisticated lighting concepts in Hannover.
Renovating needs to be well planned and prepared. A clear vision is as important as the communication of this vision with the implementing partner.In our reference object, the spontaneous inspiration of the client meets the targeted and flexible way of working of our service partner.
The result: An astounding 200 m² demonstration of harmonious eNet SMART HOME scenarios with technology from JUNG, Brumberg and tado°.
The building client, Mr and Mrs B., lived in their condominium in a block of flats with a garden for many years. When the flat next door went up for sale, the couple immediately knew what they wanted: "More space!"
Without delay, both flats were renovated completely and combined to form one big flat after a breakthrough. We visited Mr and Mrs B. – and they proudly presented to us what now is possible thanks to eNet SMART HOME and how the installation went.
Planning and implementation were possible thanks to:

There was no talk of intelligent home control at the start of planning – it wasn't until the renovations were nearly finished that Mr and Mrs B. got inspired on a long-distance trip and decided that they didn't want to do without smart lighting.
But was implementation even possible that far into the building process?
To reliably secure comfort and functionality this far after the start of construction, there are two things needed. The flexible and wireless eNet SMART HOME system and a competent service partner for whom communication is the most important thing.
Mr and Mrs B. found the perfect electrical installation business partner in Jens Rosummek GmbH & Co. KG. The consultation with Mr Rosummek gave the couple many more inspirations for integrating intelligent smart technologies. And so, the sockets and lighting were fine-tuned again and again – this kind of retrofitting is only possible with the flexibility of eNet SMART HOME.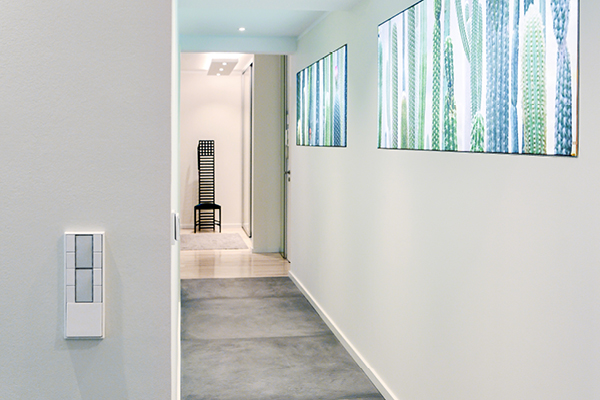 From the smallest detail to the big picture.
Nearly every aspect of lighting, inside and outside, is used in the generously proportioned ground floor flat with a terrace and garden.
The F50 switches of the LS series in alpine white from JUNG control not only a variety of Brumberg lamps, but also the blinds, awnings and the sockets which are integrated into the eNet SMART HOME System via a switch actuator.
For example, the combination of products of our brand partners lets the interiors shine in a pleasantly bright "good morning scene" for the perfect start to the day.
For the evening, on the other hand, there was a light scene preconfigured at the request of Mr B. which starts automatically and offers a perfect basis for the end of the day.
Warmth starts with the right light.
For Mr And Mrs B. light clearly was the main focus.
Complex solutions like cove lighting and downlights inspire dweller and viewer alike not only with a pleasant atmosphere but are also with smart and intuitive control thanks to the 1-way mini switch actuator.
What could possibly add to this already pleasant atmosphere?
A smart heating system, of course! A total of 10 radiators are controllable via app via the thermostats from brand partner tado° and can be integrated in the complex light scenes.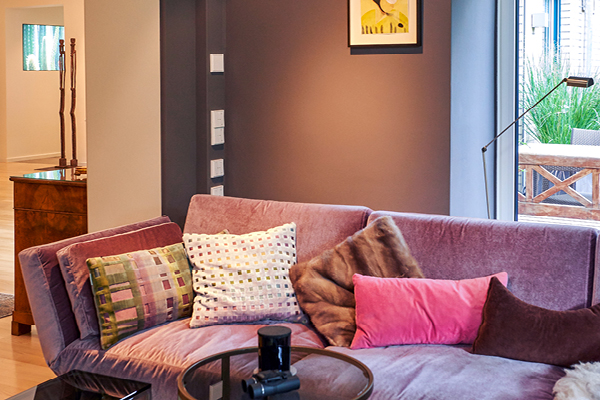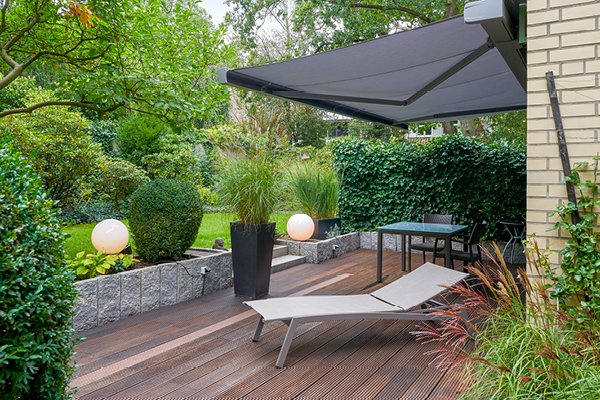 Smart both inside and outside.
The potential of an intelligent home is not limited to just the inside! Mr and Mrs B. realised this as well and made their garden into an even more comfortable leisure oasis with eNet SMART HOME.
The awnings of their terrace automatically retract when wind reaches a certain speed threshold – thanks to the JUNG wind sensor. When wind speed falls below that threshold, the awnings will extend after waiting 15 minutes to make sure the storm has fully passed.
Looking out from the terrace, you see their beautiful garden, lit brilliantly with the Brumberg outdoor lighting. Smart and fully controllable, of course!
Finding experienced specialists.
Are you dreaming of a smart home just like Mr And Mrs B.?
Then it is time to make that dream come true! With eNet SMART HOME and a certified service partner in your area, you will experience long-term support by a professional with many years of experience.
If you are interested in a non-binding consultation, you'll find what you're looking for fast by using our list of representatives. This will save you time looking for a suitable professional.