SMART HOME WITH DESIGN APPEAL.
PLENTY OF TECHNOLOGY. HARDLY ANY EFFORT.
Top reference from eNet SMART HOME.
In Hatten in Lower Saxony, a veritable eye-catcher has just been built with smart home qualities never dreamt of before.
In order to ensure differentiation to "stand-alone solutions" and fulfil the owners' high-level design requirements, the manufacturer of choice was eNet SMART HOME. The advantages of a centralized smart home system on a wireless basis were obvious:
1. Joint control and automation of lights, blinds and much more
2. Future-proof brand platform with dependable manufacturers
3. No need to open up walls thanks to cable-free set-up
In this reference report, we will be taking a closer look at the options of an eNet SMART HOME, and how these can be used by owners for their own home improvement.
Planning and implementation made possible:
Philip Beckhäuser from Heinz Beckhäuser & Sohn Elektro GmbH is not just a Gira system integrator, but also a certified eNet SMART HOME service partner. This means that he knows all about Gira products and the options eNet SMART HOME has to offer – and could provide clients with targeted support with his expertise.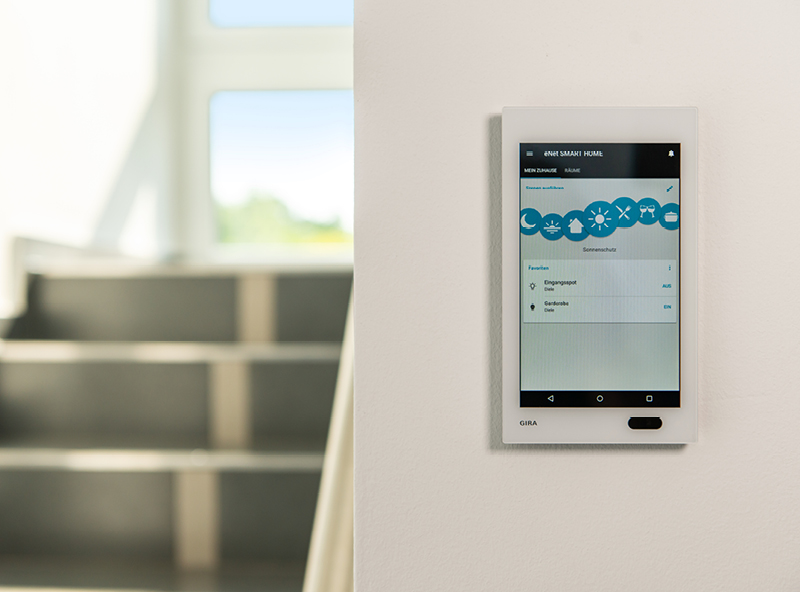 A product world for the most sophisticated requirements.
In the reference property, the service partners from the company responsible for implementation, Beckhäuser Elektrotechnik, installed more than 130 individual products, most of which were from Gira's System 3000 series. These intelligently connected products now provide added comfort.
These included, for instance, the eNet wireless operating top units with and without arrow symbols in the classy "pure white glossy" hue, which have recently been added to the Gira portfolio. Clear advantage: the switches have a very subtle look and their operation is intuitive.
For more complex commands to the eNet server and many further functions, residents can conveniently use the usually flush-mounted Gira G1.
Less effort – More time.
How can living comfort be increased by means of intelligent building technology? Even basic-level automation makes household tasks easier and provides structure.
For example, in this reference property, all the outdoor lights switch on as soon as the sun sets – and half an hour later the blinds move to the user-defined positions (e.g. for ventilation).
But not everything needs to be merely time-controlled: during the day, for instance, the blinds are lowered automatically thanks to sun sensors if the light gets too bright. No matter what time it is.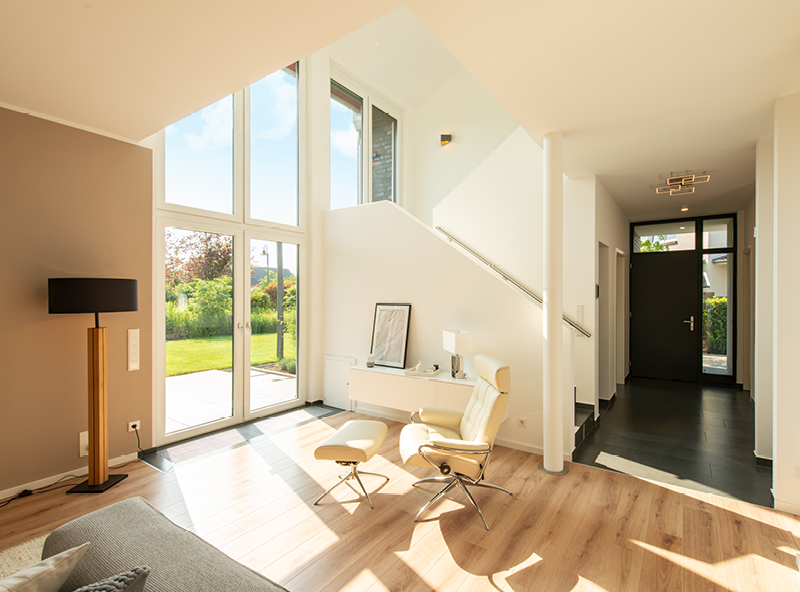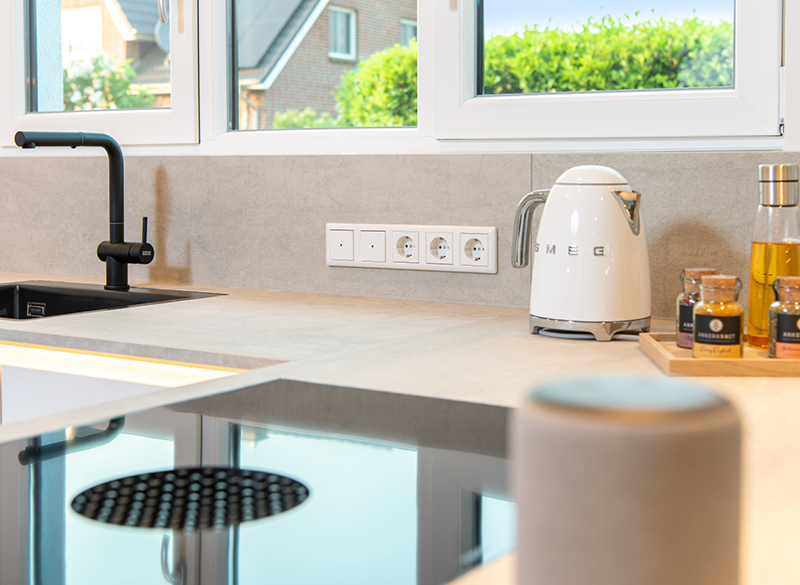 Hidden eye-catchers in subtle style.
The operating elements from Gira used are a perfect match for the style of the interior design.
The selected products form an optically elegant solution which, thanks to its flush mounting and subtle colours, is simultaneously low-key and an eye-catcher.
Care to become even more inspired by the technology of our brand partner Gira? You'll find the link to the Gira System 3000 below.
Find competent specialized companies.
Have we kindled your interest? With the solutions from eNet SMART HOME brands and a certified service partner, your home can be turned into a smart home in next to no time.
The fastest way to this is with our representatives.
Here you'll find certified specialized companies near you who will advise and support you in the long term with a dedicated contact partner.