SMART BATHROOM INSPIRATIONS.
More options with your Smart Home.
The bathroom in a smart home is equipped to assist all generations in equally. While older people will enjoy an increased feeling of security as a result of easy access, working professionals will get the support they need when time is of the essence.
Let us show you a selection of solutions which are guaranteed to inspire you in fitting up your smart bathroom!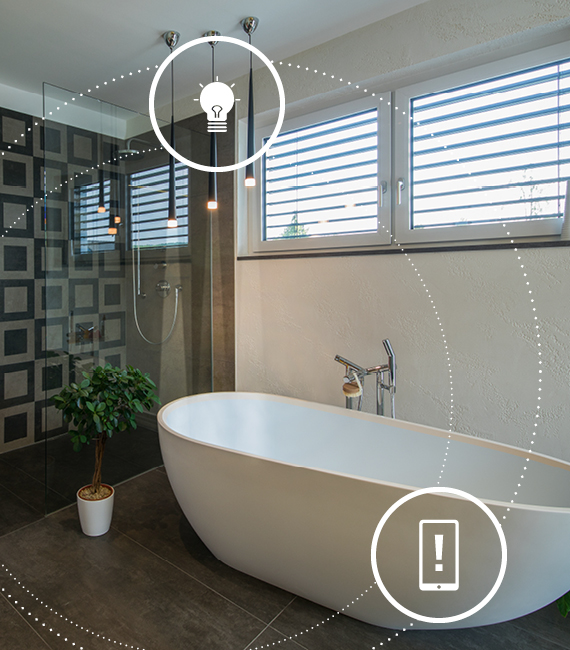 Slippery surface warning:
Your smart home is on the alert.
Prevent accidents in the home with intelligently connected technology! If the water sensor in the bathroom detects that water has escaped, the bathroom light switches on and a warning is issued via text message.
Take the next step!
Easy access in the bathroom:
The good morning scene.
Use one of your integrated switches – for instance, in the bathroom – as a call button for (elderly) residents. This needn't result in a direct call to emergency services if this would make the person requiring assistance feel anxious or demoralised. To be on the safe side, other people living in the home receive an alert that the button has been pressed via mail, text message, text-to-speech and/or other services of your choice.
Take the next step!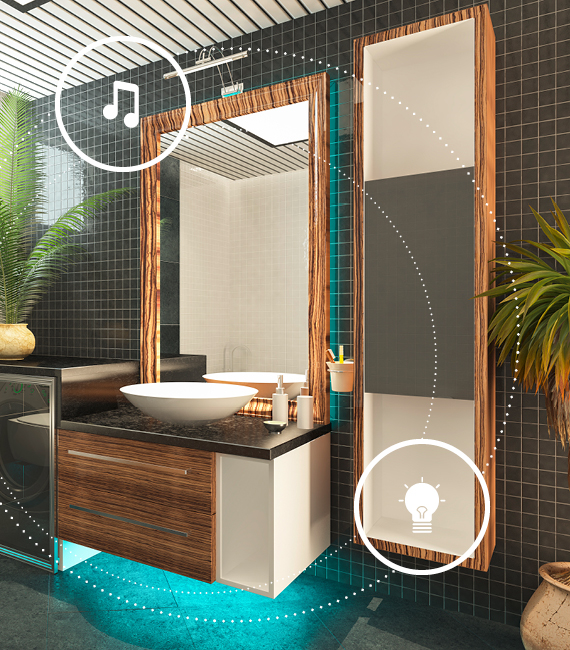 Using the bathroom on a sunday morning:
The day is off to a smart start.
This is a smart way to enjoy your weekend! On Sunday in the morning, when someone enters the bathroom, your smart home lights up the bathroom in especially relaxing colours and plays your favourite tunes.
Take the next step!
INSPIRATIONS FOR YOUR LIVING SPACES.
More room for smart solutions.